What is FieldGroove?
FieldGroove is a web based application built by insulation contractors to improve business efficiency through automation for the insulation industry. We help you manage your jobs, employees, customers, communication, billing, and pretty much every other aspect of your business in one complete software system.
Do I have to download or install anything?
No, FieldGroove is a web based and runs in the cloud on all major, modern web browsers.
Will FieldGroove work on my mobile device?
Yes, we are developing a mobile app that will work on all mobile devices! The robust nature of FieldGroove makes certain elements of business management difficult for small screens to control, but we do currently have a functional responsive view of the live web app.
Is FieldGroove available in my country?
FieldGroove is only setup to work with US dollars. Please contact us for more information on customizing your account for your country or currency.
Can I get a demo before starting my trial?
Yes! In fact, we encourage it. One of our sales representatives will be glad to walk you through the application and answer any questions along the way.
How do I add features to my FieldGroove account?
If you have a feature request, use the feature request form to submit your idea to us. If your idea is something that makes sense for the vast majority, if not all of our users, we'll implement it! If it's something that you need quickly, or just for yourself, give us a call and we can talk through a one-off customization for your account.
I don't see my ERP / accounting system. What can I do?
If you don't see the system you'd like for us to integrate with/migrate data from, you can specifically request different system for a one-off customization. These are handled on a case-by-case basis. Give us a call and see what options are available for you!
Supports Multiple Locations
Your CRM grows as your business grows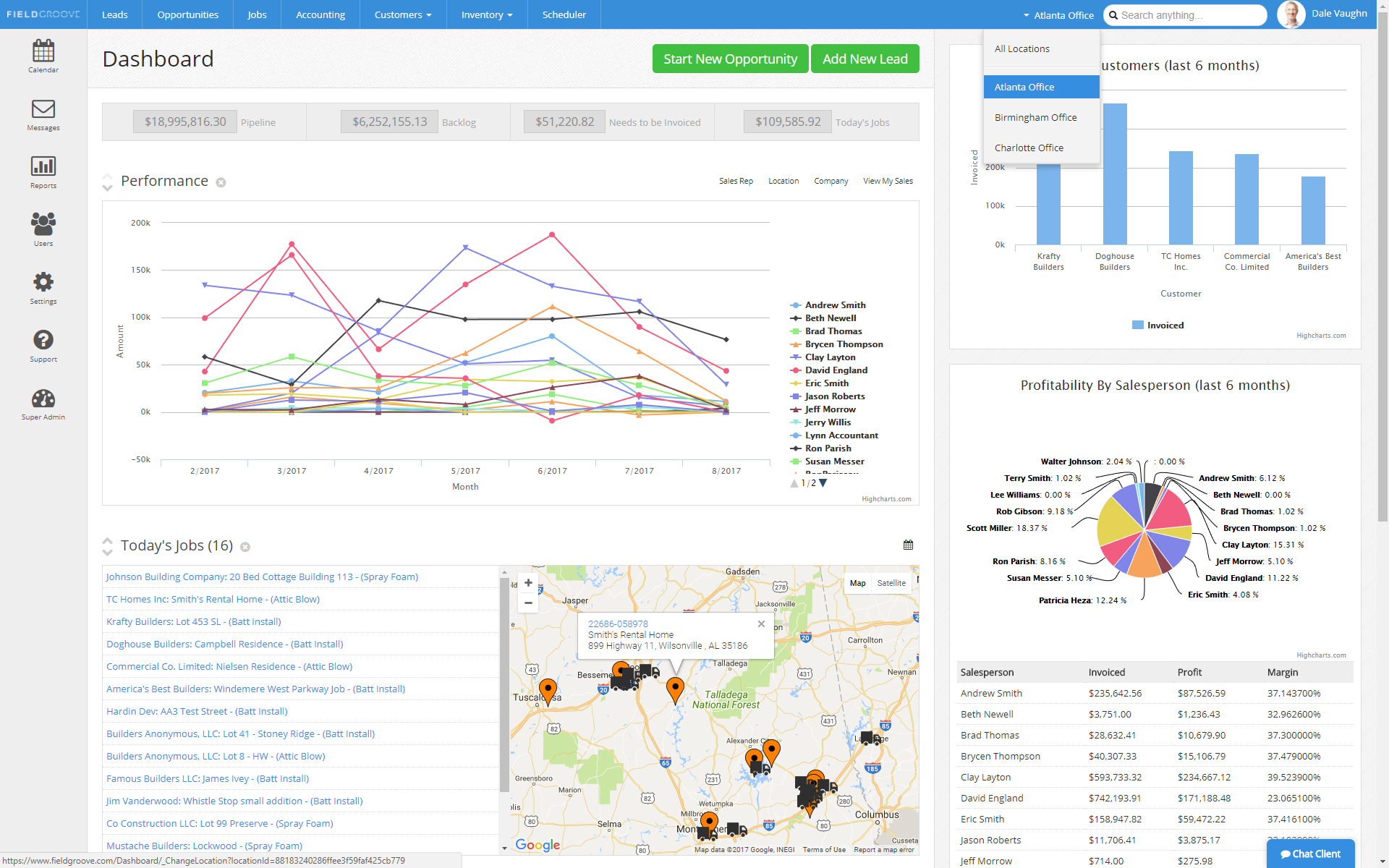 Set up location specific employees, customers, and inventory
Add unlimited locations with asset tracking and pricing metrics
See sales data and reports base on each locations performance for forecasting and planning
My business is unique, am I able to customize my account?
You are able to customize every phase of your business through our extensive settings. We are happy to help you get this setup!
How do I onboard or import my existing customers / inventory?
In order to onboard your leads / customers into your FieldGroove account, you'll need to organize the data into a spreadsheet for easy import. You can view our example spreadsheet here.
Once you've formatted the data in your spreadsheet, navigate to your settings and click on the "import" button, and select your file and we'll handle the rest! Your leads, customers, inventory, and vendors will all be automatically imported into your account.